Posted by Gary Brown on Dec 17th 2020
As many hotels, restaurants, fitness centers, health care facilities and other businesses work to reopen and get back to welcoming customers, one of the first priorities is preventing from infection the coronavirus. This includes making hand sanitizer easily accessible to customer coming into your business. Beyond the basic necessity to provide hand sanitizer to guests, Hotel Supply Depot decided to design a free standing hand sanitizer station that could be placed anywhere and would look great!
New Hand Sanitizer Stand - Any Color As Long As It's Black
Just like Henry Ford, we decided that black looks awesome! Our industrial grade metal floor stand is made of heavy duty powder coated steel. The metal stand is proudly made in the USA and unlike most imported stands, it is very sturdy and stable. Features rubber feet that allow the stand to be placed on any floor without scratching the surface. The stand is easy to assemble The only tool needed is an allen wrench which is included. All hardware needed to assemble the stand and attach the dispenser are included in the box. The stand is painted in matte black and fits any ambiance. Choose our Model SFDBK Hand Sanitizer Stand with Dispenser or Model SFDBU Universal Stand to attach your own dispenser.
Features Reminder to Sanitize Hands
Either model comes with a matching powder coated steel sign holder. A durable color printed styrene sign is included with a bilingual reminder to sanitize hands. The message is in both English and Spanish on one side and English only on the other side with a sanitize hands icon. The sign is easy to install and change according to the language preference. Just flip the sign to display the desired message. The sign holder holds a standard 8.5" x 11" sign so customers can easily customize and swap in their own sign design to promote their business and display their own message.
Hand Sanitizer Stand with Automatic Touch Free Dispenser with Sign Holder and Bilingual Sign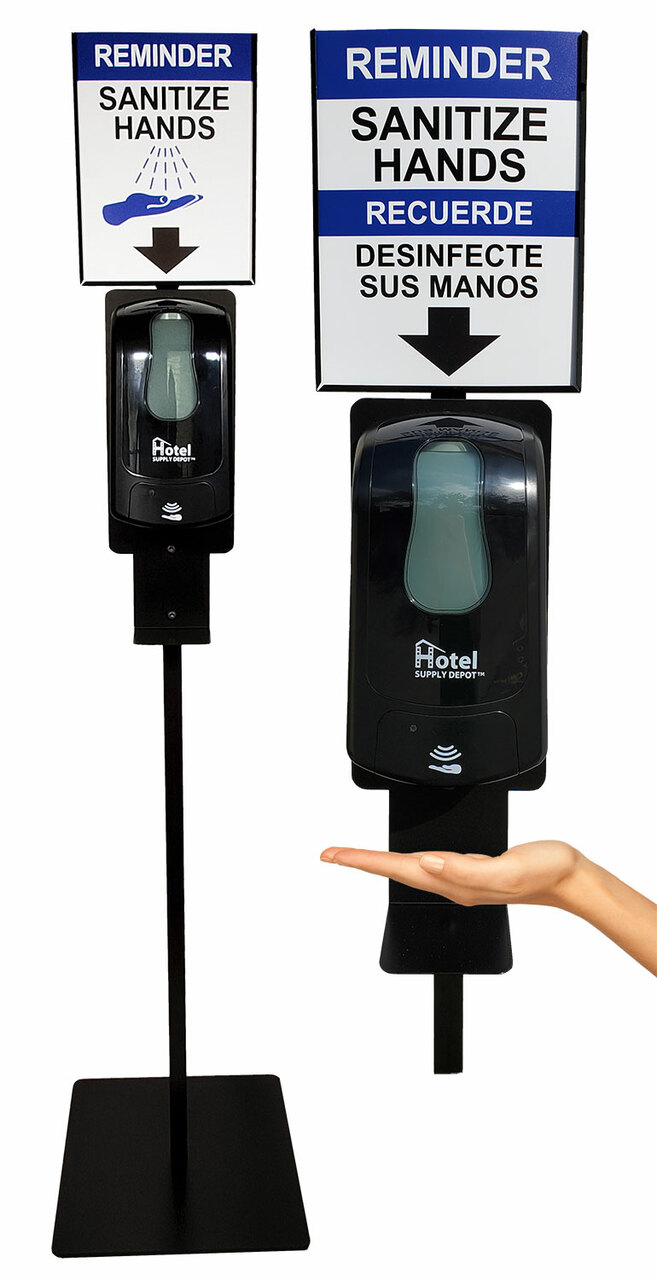 Our model SFDBK is our all-in-one hand sanitizer stand featuring the heavy duty steel floor stand with an automatic foaming dispenser. The hands-free dispenser features an infrared sensor for touchless activation to prevent cross-contamination. The dispenser has a removable, universal refillable reservoir that accepts bulk foam or liquid sanitizer. Operates on 4 "C" alkaline batteries. The tamper resistant lock includes 2 keys to open the unit.
Bulk Foam Hand Sanitizer Dispenser included with the Kit
The included AFD01B hand sanitizer dispenser accepts both foaming and liquid hand sanitizer. Foaming hand sanitizer works great because it goes a long way and dispenses easily on hands. Made of ABS plastic and touchless activation to prevent cross-contamination. The unit has a removable, refillable reservoir and accepts most bulk foam sanitizer. Operates on 4 "C" alkaline batteries. Includes 2 keys to open the unit. The dispenser can also be purchased separately.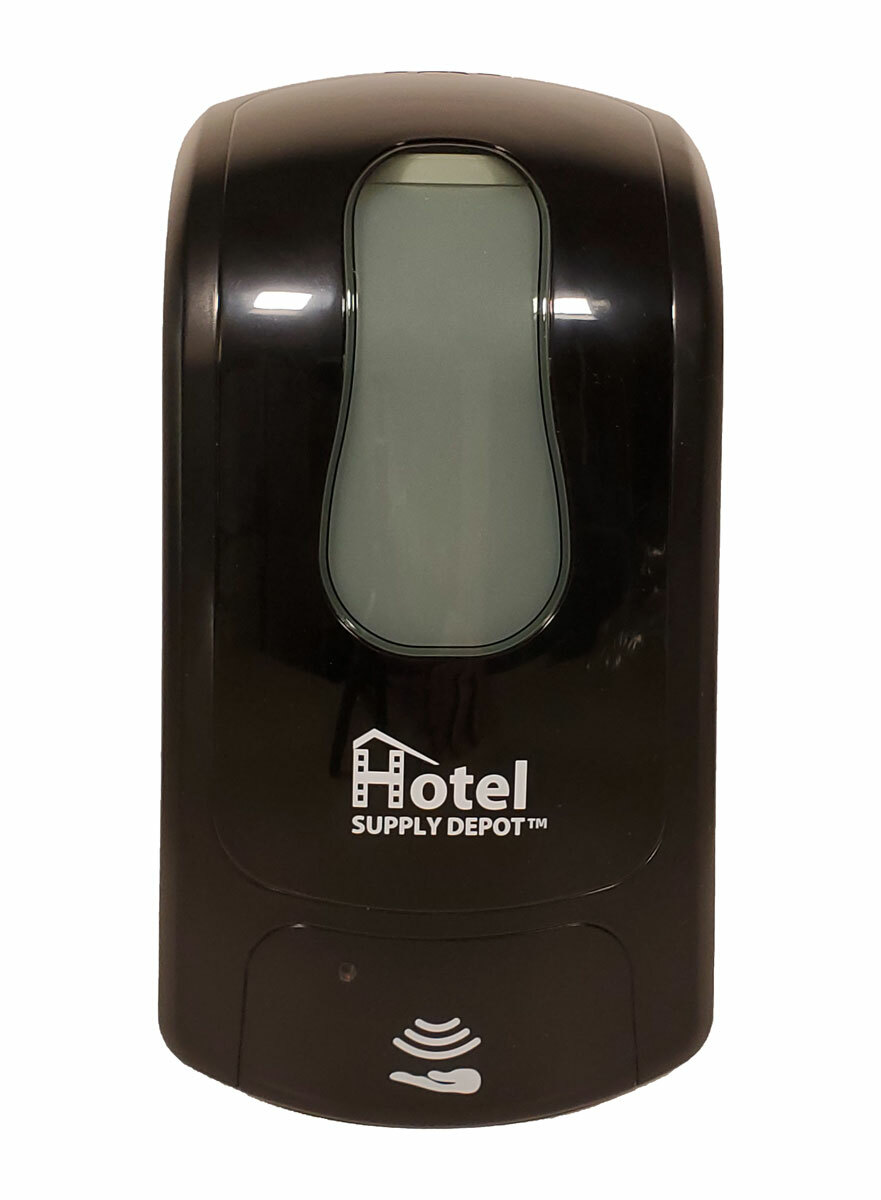 Kit Features:
Automatic hands-free foam dispenser.
Accepts bulk foam hand sanitizer.
Removable refillable reservoir.
Operates on 4 "C" alkaline batteries.
Tamper free locking design includes 2 keys.
8.5" x 11" sign holder. Bilingual sign included. Printed on durable styrene.
Powder coated steel sanitizer floor display stand with drip tray and sign holder.
6.5" wide back plate.
Laser drilled holes provide a quality design.
Hex key allen wrench and hardware pack included for easy assembly.
Smooth black powder coated finish. Sturdy steel construction.
Rubber feet on base plate for use on any floor surface.
Can be assembled with or without sign holder.
Floor stand made in USA.
Dimensions:
Height: 61.5"
Mounting plate dimensions: 17"H x 6.5"W
14" x 14" base with rubber feet.
Universal Stand with Sign Holder and Bilingual Sign
Do you already have your own hand sanitizer dispenser and just want a sturdy universal stand to attach it to? Or maybe you prefer gel hand sanitizer over foam or liquid. Then our Model SFDBU Universal Stand fits the bill. This is the same stand that comes with our SFDBK Kit but without the dispenser. This universal stand has a flat backplate with no predrilled holes so your dispenser would be mounted using double sided mounting tape (sold separately) or you could drill holes to match the dispenser you are mounting. The backplate is 6.5" wide and 17" tall and is designed to accommodate most dispensers. It is best to measure your dispenser from left to right at the widest point to make sure it is less than 6.5 inches wide.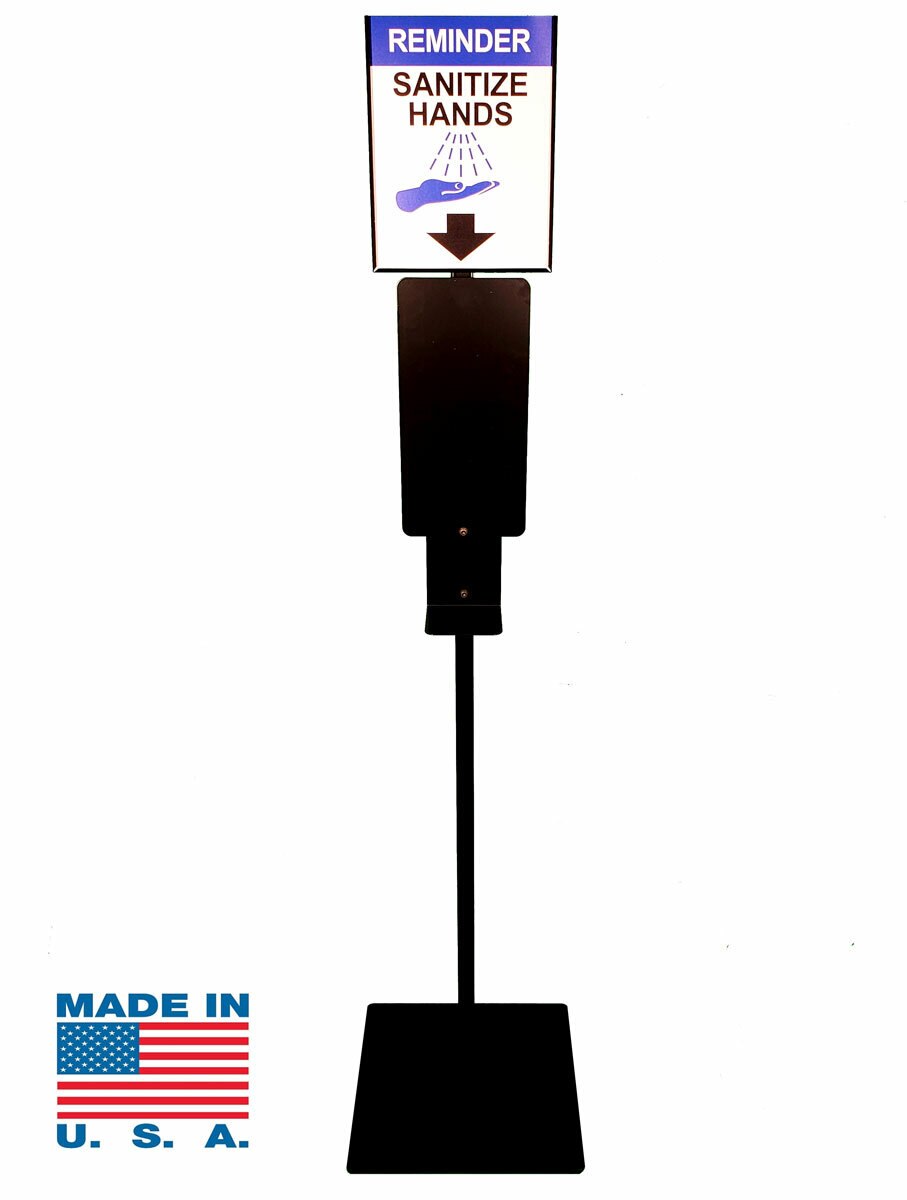 Made in the USA of Heavy Duty Powder Coated Steel.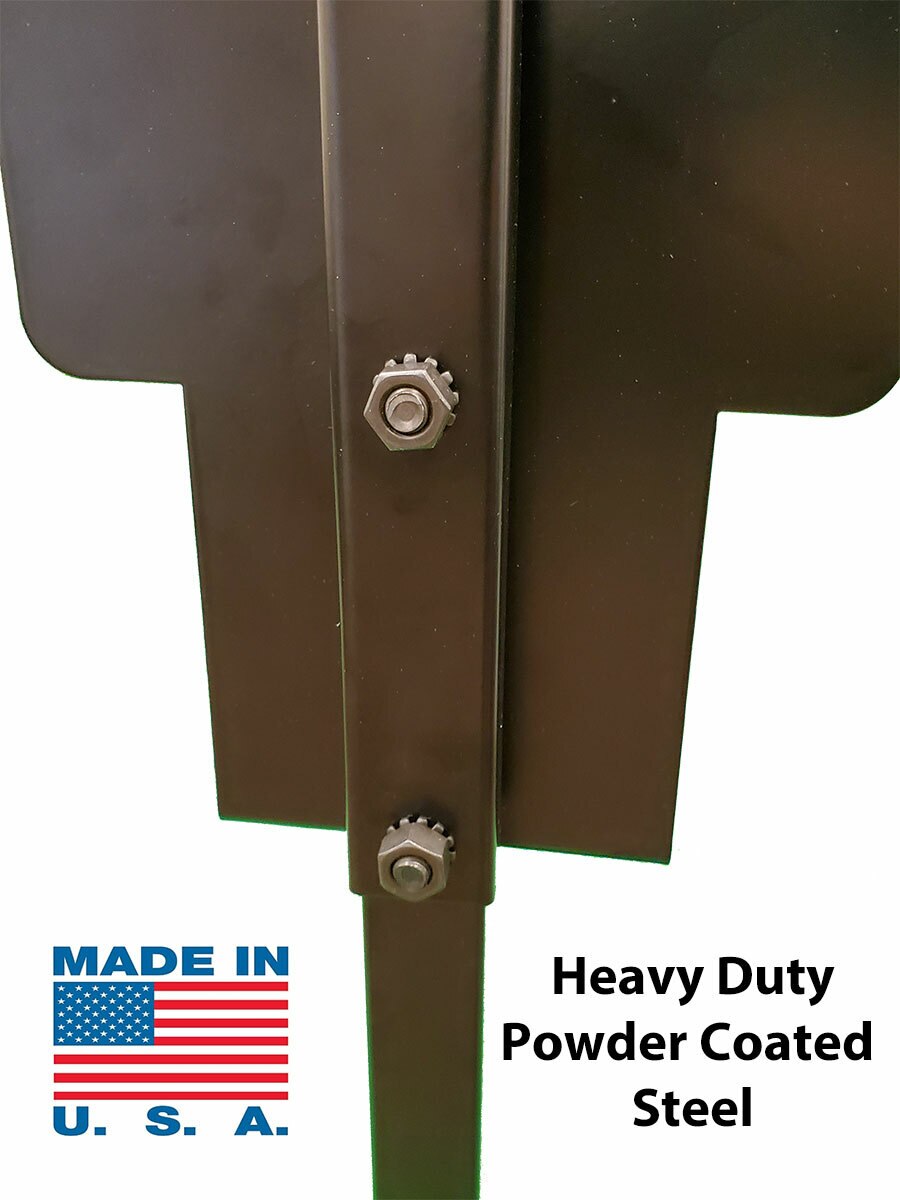 Best locations for Hand Sanitizer Stands
You will want to place hand sanitizer stand wherever the will most be used. The best locations are high traffic areas such at next to doorway entrances and exits, registration desks, ordering counters, and by elevators. Our hand sanitizer dispenser stands are free standing and the dispensers use 4 "C" size batteries, so no adapter cords are needed. The stands can be place anywhere. Our stands also come with rubber fees so no worries about scratching tile or wood floors. Both the Kit and Universal stands are made in the USA of heavy duty powder coated steel and are very sturdy. Definitely not wobbly and flimsy like many of the imported stands.
Have questions or would like to place an order? Call our customer support specialists at 800-670-4490, contact us on our website chat or email us at info@hotelsupplydepot.com.